Church Knowle

in the Isle of Purbeck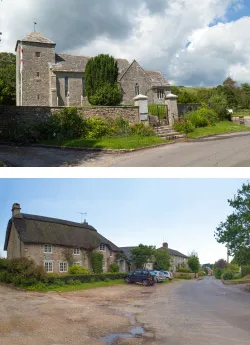 Nestled in the picturesque countryside of Dorset, the village of Church Knowle exudes an undeniable old-world charm. With its quaint cottages, lush greenery, and rich history, this hidden gem offers visitors a delightful escape from the hustle and bustle of modern life. From its ancient church to the captivating landscapes surrounding it, Church Knowle promises a peaceful retreat and a glimpse into the rural heritage of England.
Historical Significance:
Church Knowle boasts a captivating history that dates back centuries. The village takes its name from the beautiful 12th-century Church of St. Peter, which dominates the skyline with its prominent tower. This medieval church features stunning architecture and is adorned with intricate stone carvings and stained glass windows. Stepping inside, visitors are transported to a bygone era, surrounded by the echoes of history.
Quaint Village Life:
The essence of village life thrives in Church Knowle, where time seems to stand still. As you wander through its narrow lanes, you'll encounter charming thatched cottages, some of which have stood for centuries. The friendly locals are ever-welcoming, and the village pub, The New Inn https://www.the-newinn.com/, serves as a lively hub, offering traditional ales and hearty pub fare.
Natural Beauty and Tranquil Surroundings:
Church Knowle sits in the heart of the breathtaking Purbeck Hills, providing a perfect backdrop for nature enthusiasts. As you explore the countryside, you'll be treated to rolling hills, verdant meadows, and enchanting woodlands. The village is surrounded by beautiful walking trails, inviting visitors to immerse themselves in the tranquillity of the Dorset countryside. A visit to the nearby Swyre Head, the highest point in Purbeck, rewards you with panoramic views that stretch to the stunning Jurassic Coast.
Exploring Beyond Church Knowle:
While Church Knowle's charm is undeniable, its location offers easy access to several other attractions in Dorset. A short distance away, the historic market town of Wareham beckons with its ancient walls, charming riverside setting, and fascinating museums. The magnificent Corfe Castle, a medieval ruin perched atop a hill, is another must-visit destination. Furthermore, the stunning Lulworth Cove and Durdle Door, two iconic geological formations along the Jurassic Coast, are within easy reach, captivating visitors with their natural beauty.
Community Events and Festivities:
Church Knowle hosts various community events and festivities throughout the year, allowing visitors to immerse themselves in the vibrant local culture. From summer fêtes and village shows to Christmas markets and carol services in the ancient church, these events showcase the close-knit community spirit that thrives in the village. Attending these events allows you to experience the warmth and hospitality of the locals while creating lasting memories.
Getting There
Church Knowle is reached via the A351 from Wareham, turn right just before Corfe Castle
The nearest train stations are Wareham, Poole and Bournemouth
Wildlife and Walks
The area around Church Knowle is ideal for walking and cycling, with many miles of footpaths and bridleways.