Town Twinning Association

in Local Area Information
The aim of the association is to promote friendship and understanding between the inhabitants of  Swanage and those of our Twin Town of Rudesheim am Rhein.
Following a lot of hard groundwork by the original founder members, the formal partnership document was signed in 1986 with Rudesheim in the presence of the mayors and civic dignitaries from both towns. Since then each year visits have taken place, alternating between Swanage and Rudesheim, with some 40 people from each town usually making the visits. Members stay in each others' homes, thereby over the years, many firm friendships have been forged.
In 2009 our organised visit for our German friends coincided with the Jazz weekend which was enjoyed by all despite the dreadful weather, there was also a coach trip to Portland and Weymouth, finishing with a cream tea at Moreton. Family and hosts also have free time to do shopping and generally enjoy our town, the visits always end with a party before waving everyone goodbye for another year.
This year in August, to coincide with their Wine Festival, it's our turn to visit Rudesheim, where a similar programme will be arranged for us, normally including a picnic, sometimes amongst the vineyards that surround Rudesheim or at one of the many ruined castles dotted along the Rhine.
To be eligible to join our visits to Germany you need to have been a member for 6 months.
We welcome new members especially younger people, during the year we meet every 2nd Monday at  Queens Mead Hall, just off of Queens Road at 7:30 unless otherwise notified, we have different speakers, potluck suppers, slide shows plus fundraising events at outside venues such as  B.B.Q's, Beetle Drive and an Oktoberfest with fun and entertainment.
Subscriptions are £10 per person or £20 family.
Contact Information
Chairman Mike Stollery 01929 421492
Vice Chairman, Janet Enoch 01929 422309
Secretary, Bob Ratcliffe 01929 550156
We look forward to seeing you.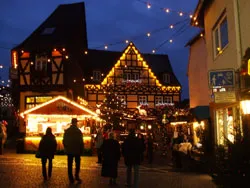 Rudesheim by night with Christmas lights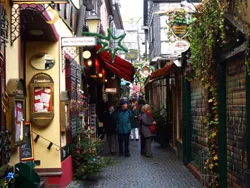 The world famous Drosselgasse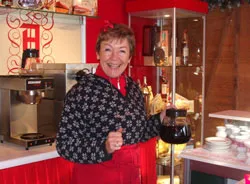 Ute Neugerbauer the chairman of the Rudesheim Twinning offers you a Rudesheim coffee (with Asbach and cream!)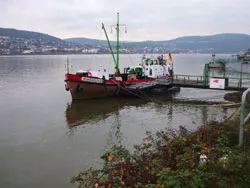 The Rhein (German spelling) looking across to Bingen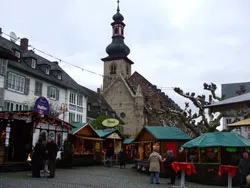 Christmas Market in town square, Rudesheim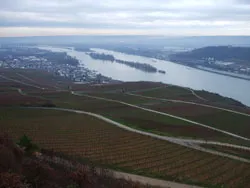 View of the Rhein and vineyards from the Germania monument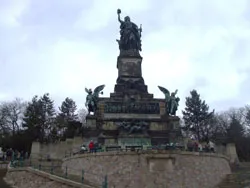 The Germania monument symbolising German unification in the 1880s