Seafront Stabilisation Project

in Education resources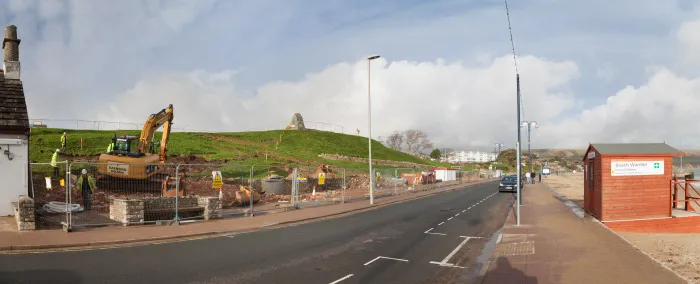 In late 2013 work started on Swanage seafront stabilisation works which will pin back the soil on the Recreation Ground to prevent slippage onto Shore Road and Victoria Avenue.
The project also includes the construction of new public toilets, two tiers of beach huts and a permanent kiosk on the corner of Shore Road and Victors Avenue.
The scheme will cost approximately £2 million and is funded directly by Swanage Town Council, principally from the proceeds from the leasehold disposal of Swanage Bay View Holiday Park which was sold in 2009.
Further information about the project is available from the Swanage Council website.

On the 20th March 2014 it was announced that the Swanage's seafront stabilisation works are being expanded to address the risk of land slippage in the central section beneath the war memorial on the recreation ground. In order to sufficiently reduce the angle of the ground the memorial will have to be taken down and re-built further away from the top of the slope.
The extension to the works is likely to add up to an additional £¾ million to the cost of the works, which had initially been costed at £2.1 million and has delayed the completion date of the project until much later in 2014.
The photos below show the work in progress in early May 2014. Click on the photos to view large versions.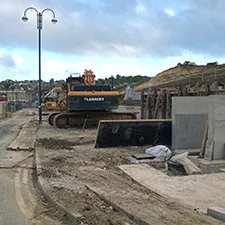 Looking south towards the town center from the corner with Victoria Avenue.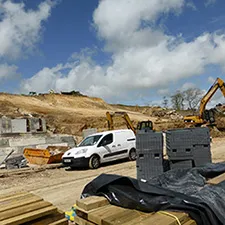 Looking up at the war memorial site from the sea front with Victoria Avenue in the right of the photo.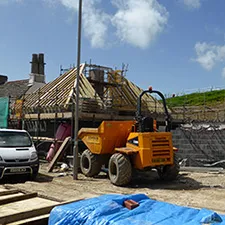 The new toilet block being constructed on the sea front.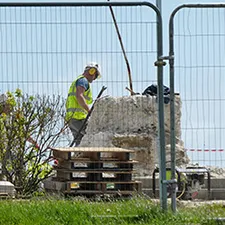 Work to move the war memorial from the top of the recreation ground.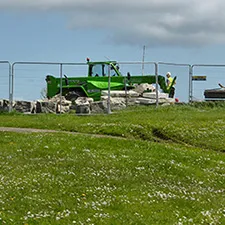 Work to move the war memorial from the top of the recreation ground.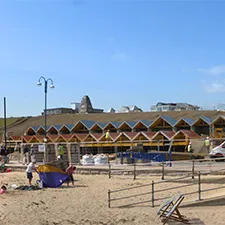 Work on the project in August 2014 
On the 12th May 2014 and also on the 3rd July 2014 a number of World War II phosphorus grenades were uncovered whilst digging alongside the war memorial and the army bomb disposal team was called to the site to make them safe and remove the grenades.
In November access was restored to the rebuilt war memorial with new paths across the recreation ground. Work was still continuing on the beach huts into December and on the 17th December the fences in front of the new huts were removed.